August 16, 2020 – 11th Sunday after Pentecost
You can follow the order of the service here or Download a PDF copy that you can print ahead of time.
Feel free to also check out the following:
---
Gathering, Greeting, and Announcements
Blessing of the Backpacks
Prayer of the Day
God of all peoples, your arms reach out to embrace all those who call upon you. Teach us as disciples of your Son to love the world with compassion and constancy, that your name may be known throughout the earth, through Jesus Christ, our Savior and Lord. Amen.
A Reading from the Gospel of St. Matthew
Matthew 15:21–28
21Jesus left that place and went away to the district of Tyre and Sidon. 22Just then a Canaanite woman from that region came out and started shouting, "Have mercy on me, Lord, Son of David; my daughter is tormented by a demon." 23But he did not answer her at all. And his disciples came and urged him, saying, "Send her away, for she keeps shouting after us." 24He answered, "I was sent only to the lost sheep of the house of Israel." 25But she came and knelt before him, saying, "Lord, help me." 26He answered, "It is not fair to take the children's food and throw it to the dogs." 27She said, "Yes, Lord, yet even the dogs eat the crumbs that fall from their masters' table." 28Then Jesus answered her, "Woman, great is your faith! Let it be done for you as you wish." And her daughter was healed instantly.
P: The Gospel of the Lord.
C: Praise to you, O Christ.
Sermon
Hymn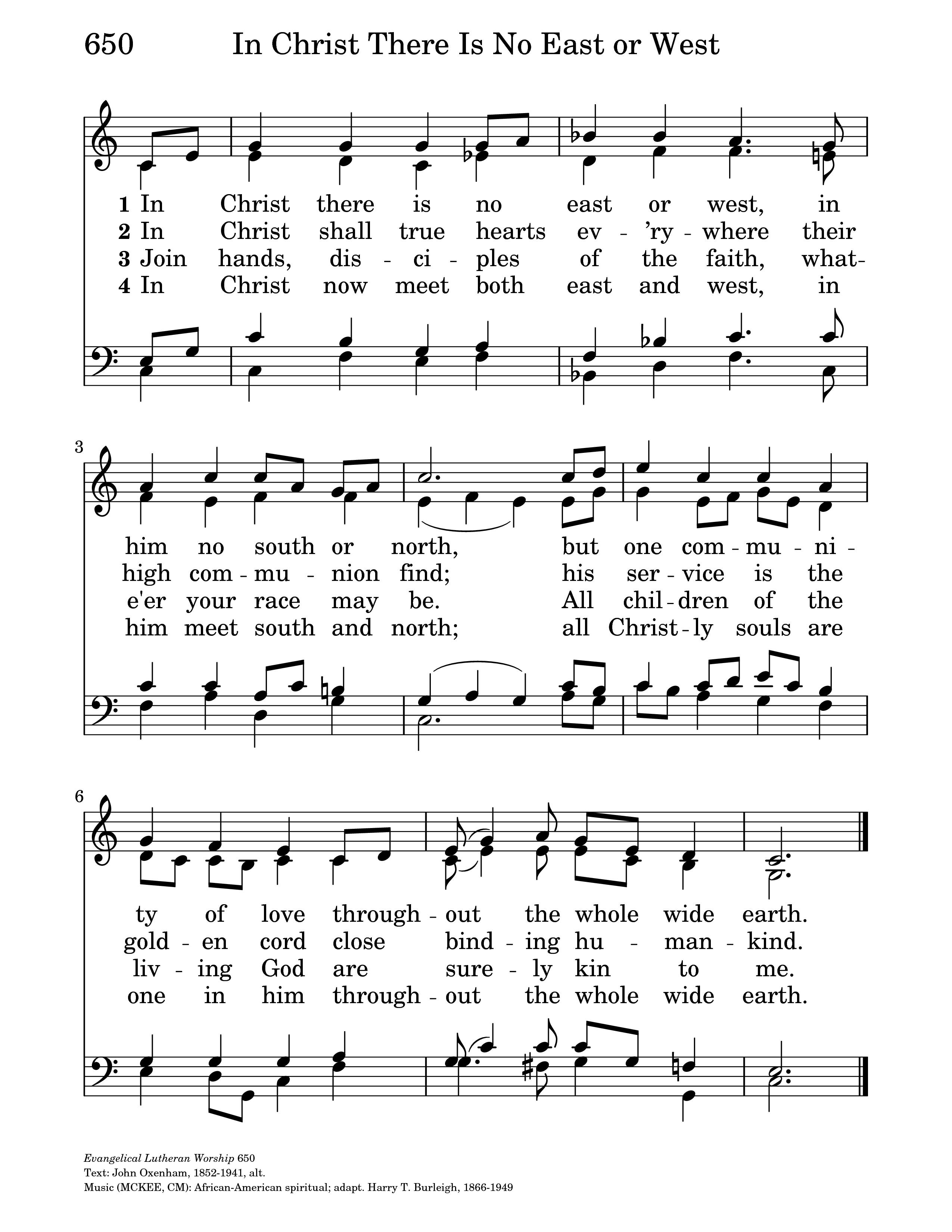 1In Christ there is no east or west,
in him no south or north,
but one community of love
throughout the whole wide earth.
2In Christ shall true hearts ev'rywhere
their high communion find;
his service is the golden cord
close binding human-kind.
3Join hands, disciples of the faith,
whate'er your race may be.
All children of the living God
are surely kin to me.
4In Christ now meet both east and west,
in him meet south and north;
all Christly souls are one in him
throughout the whole wide earth.
Apostles' Creed
I believe in God, the Father almighty,
creator of heaven and earth.
I believe in Jesus Christ, God's only Son, our Lord,
who was conceived by the Holy Spirit,
born of the virgin Mary,
suffered under Pontius Pilate,
was crucified, died, and was buried;
he descended to the dead.
On the third day he rose again;
he ascended into heaven,
he is seated at the right hand of the Father,
and he will come to judge the living and the dead.
I believe in the Holy Spirit,
the holy catholic church,
the communion of saints,
the forgiveness of sins,
the resurrection of the body,
and the life everlasting. Amen.
Prayers of the Church
P: Lord, in your mercy,
C: hear our prayer.
Lord's Prayer
Our Father, who art in heaven,
hallowed be thy name,
thy kingdom come,
thy will be done,
on earth as it is in heaven.
Give us this day our daily bread;
and forgive us our trespasses,
as we forgive those
who trespass against us;
and lead us not into temptation,
but deliver us from evil.
For thine is the kingdom,
and the power, and the glory,
forever and ever. Amen.
Blessing
---
Weekly Announcements
We remember in our prayers
Sick & Injured:

Jeff Dodge
Kenneth Harness
Xavier Roach
Mike Schulz

The following medical professionals in our congregation:

Delaney Crutcher
Ann Frederick
Adam Houghton
Kelly Johnson
Sally Jo Martin
Marilyn Nelson
Jolene Patton
Becky Schoon
Pam Schwartzkopf
Jason Stotts
Jenna Sutton
Ruth Wiley

Carle BroMenn Medical Center Radiology, Pharmacy & Laboratory Services
U.S. military known to us
Our sister congregation, St. Luke Evangelical Lutheran Church in Campbell Hill, Illinois
Becoming a Good Steward
Check your cabinets for expired medicine and properly dispose of them. Avoid flushing medicines and other dangerous chemicals in the toilet or washing them down the sink. Instead, take them to the Normal or Bloomington Police Departments. This will help keep water clean and drug-free for other people to drink and for animals and plants to live in and consume. (Creation Justice Ministries)
Last Call for Directory Updates
This is your last chance to update your contact infor for the 2020 print edition of the church directory. If you have any new directory information (e.g., new or additional phone numbers, different postal address, new or added email address), please contact the church office by August 24 so we can include that in the next print edition.
Also, if you want a printed copy of the church directory or a PDF copy emailed to you, please call or email the church office. We will not be making as many printed copies as in the past, so let us know if we should print one for you.
Food Drive
The Mission committee is continuing to collect food that will be shared between Safe Harbor and the Midwest Food Bank. We are collecting the following items:
Canned fruits and vegetables
Canned meats (tuna, chicken, spam, etc.)
Soups
Boxed Meals (Mac & Cheese, hamburger helper, etc.)
Canned meals (ravioli, chili, etc.)
Peanut butter (no glass please)
There is a box just inside the church entrance where you can deposit items. Please do not take items to Megan or Pastor Henrick's office.