November 8, 2020 – 23rd Sunday after Pentecost
You can follow the order of the service here or Download a PDF copy that you can print ahead of time.
Feel free to also check out the following:
---
Gathering, Greeting, and Announcements
Prayer of the Day
O God of justice and love, you illumine our way through life with the words of your Son. Give us the light we need, and awaken us to the needs of others, through Jesus Christ, our Savior and Lord. Amen.
First Lesson: A Reading from St. Paul's First Epistle to the Thessalonians
1 Thessalonians 4:13–18
13But we do not want you to be uninformed, brothers and sisters, about those who have died, so that you may not grieve as others do who have no hope. 14For since we believe that Jesus died and rose again, even so, through Jesus, God will bring with him those who have died. 15For this we declare to you by the word of the Lord, that we who are alive, who are left until the coming of the Lord, will by no means precede those who have died. 16For the Lord himself, with a cry of command, with the archangel's call and with the sound of God's trumpet, will descend from heaven, and the dead in Christ will rise first. 17Then we who are alive, who are left, will be caught up in the clouds together with them to meet the Lord in the air; and so we will be with the Lord forever. 18Therefore encourage one another with these words.
Gospel: A Reading from the Gospel of St. Matthew
Matthew 25:1–13
[Jesus said to the disciples:] 1Then the kingdom of heaven will be like this. Ten bridesmaids took their lamps and went to meet the bridegroom. 2Five of them were foolish, and five were wise. 3When the foolish took their lamps, they took no oil with them; 4but the wise took flasks of oil with their lamps. 5As the bridegroom was delayed, all of them became drowsy and slept. 6But at midnight there was a shout, Look! Here is the bridegroom! Come out to meet him. 7Then all those bridesmaids got up and trimmed their lamps. 8The foolish said to the wise, Give us some of your oil, for our lamps are going out. 9But the wise replied, No! there will not be enough for you and for us; you had better go to the dealers and buy some for yourselves. 10And while they went to buy it, the bridegroom came, and those who were ready went with him into the wedding banquet; and the door was shut. 11Later the other bridesmaids came also, saying, Lord, lord, open to us. 12But he replied, Truly I tell you, I do not know you. 13Keep awake therefore, for you know neither the day nor the hour.
P: The Gospel of the Lord.
C: Praise to you, O Christ.
Sermon: Flickering Lamps
Hymn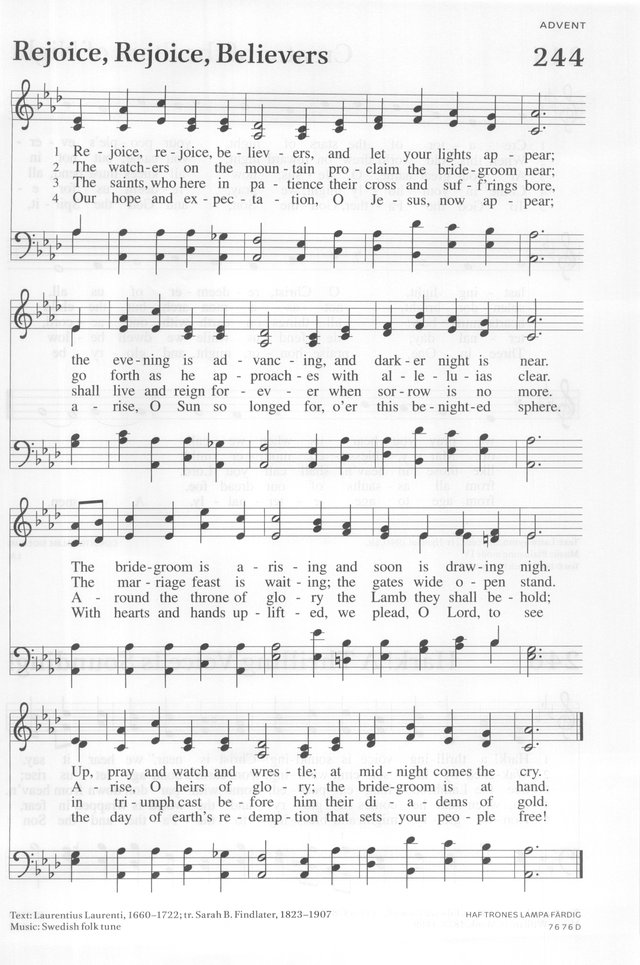 1Rejoice, rejoice, believers,
and let your lights appear;
the evening is advancing,
and darker night is near.
The bridegroom is arising
and soon is drawing nigh.
Up, pray and watch and wrestle;
at midnight comes the cry.
2The watchers on the mountain
proclaim the bridegroom near;
go forth as he approaches
with alleluias clear.
the marriage feast is waiting;
the gates wide open stand.
Arise, O heirs of glory;
The bridegroom is at hand.
Apostles' Creed
I believe in God, the Father almighty,
creator of heaven and earth.
I believe in Jesus Christ, God's only Son, our Lord,
who was conceived by the Holy Spirit,
born of the virgin Mary,
suffered under Pontius Pilate,
was crucified, died, and was buried;
he descended to the dead.
On the third day he rose again;
he ascended into heaven,
he is seated at the right hand of the Father,
and he will come to judge the living and the dead.
I believe in the Holy Spirit,
the holy catholic church,
the communion of saints,
the forgiveness of sins,
the resurrection of the body,
and the life everlasting. Amen.
Prayers of the Church
P: Lord, in your mercy,
C: hear our prayer.
Lord's Prayer
Our Father, who art in heaven,
hallowed be thy name,
thy kingdom come,
thy will be done,
on earth as it is in heaven.
Give us this day our daily bread;
and forgive us our trespasses,
as we forgive those
who trespass against us;
and lead us not into temptation,
but deliver us from evil.
For thine is the kingdom,
and the power, and the glory,
forever and ever. Amen.
Blessing
---
Weekly Announcements
We remember in our prayers
Sick & Injured:

Joan Everson
Kenneth Harness
James Isom
Terry Kearby, father of Leslie Bunge
Xavier Roach, grandson of Ann & Joe Frederick

The following medical professionals in our congregation:

Delaney Crutcher
Ann Frederick
Adam Houghton
Kelly Johnson
Sally Jo Martin
Marilyn Nelson
Jolene Patton
Becky Schoon
Pam Schwartzkopf
Jason Stotts
Jenna Sutton

Carle BroMenn Medical Center Radiology, Pharmacy & Laboratory Services
U.S. military known to us
Our sister congregation, St. Luke Evangelical Lutheran Church in Campbell Hill, Illinois
Becoming a Good Steward
Don't send chemicals into our waterways. Choose non-toxic chemicals in the home and office.
Fellowship Hall Temporarily Closed
The fellowship hall will be closed for renovations beginning Monday, November 9 through Friday, November 20. Please redirect any activities around this work.
Stretch & Pray Cancelations
Stretch & Pray will not meet today or next week (11/15) due to the ongoing renovations to the fellowship hall.
Red Cross Blood Drive
The OSLC Mission Committee will be hosting an American Red Cross Blood Drive on Saturday, November 21 from 8 a.m. until 12 noon. The blood drive will be located in the fellowship hall.
For a limited time, the American Red Cross will test all blood, platelet, and plasma donations for COVID-19 antibodies as an additional health service. This testing may provide critical insight into whether donors may have possibly been exposed to this coronavirus. The Red Cross is committed to helping others in meaningful ways during this pandemic. This is not a test to diagnose COVID-19. The results of your antibody test will be available by logging in to your Blood Donor account on the Blood Donor App or online about 7 to 10 days after your donation. More information can be found on the church website.
Charitable Trust Donations
Did you know that memorials do not automatically go to the Charitable Trust? Only by designating the "Charitable Trust" as the recipient is the donation added to the fund for future OSLC needs.
Food Drive
The Mission committee is continuing to collect food that will be shared between Safe Harbor and the Midwest Food Bank. We are collecting the following items:
Canned fruits and vegetables
Canned meats (tuna, chicken, spam, etc.)
Soups
Boxed Meals (Mac & Cheese, hamburger helper, etc.)
Canned meals (ravioli, chili, etc.)
Peanut butter (no glass please)
There is a box just inside the church entrance where you can deposit items. Please do not take items to Megan or Pastor Henrick's office.
And School Supplies Too
In addition to collecting food for local food banks, the Mission Committee is collecting school supplies for Fairview School. They indicated the following as the most needed:
Crayola markers
Crayons
Colored pencils
Pencil/supply boxes
Glue bottles
Glue sticks
We are also collecting
Antibacterial wipes
Hand sanitizers
Kleenex
Child-size face masks
Anyone wishing to donate can put in the church narthex in the same baskets as donated food. Any questions call Kay DeFrees or Pam Schwartzkopf.