December 26, 2021 – First Sunday of Christmas
You can follow the order of the service here.
Feel free to also check out the following:
---
Gathering and Announcements
Entrance Hymn
1Angels, from the realms of glory,
wing your flight o'er all the earth;
once you sang creation's story,
now proclaim Messiah's birth:
Refrain
Come and worship, come and worship,
worship Christ, the new-born king.
2Shepherds, in the fields abiding,
watching o'er your flocks by night,
God with us is now residing,
yonder shines the infant light.
Refrain
3Sages, leave your contemplations,
brighter visions beam afar;
seek the great Desire of nations,
you have seen his natal star.
Refrain
4All creation, join in praising
God, the Father, Spirit, Son,
evermore your voices raising
to the eternal Three in One.
Refrain
Opening Dialogue
P: In the stable laying in the manger
C: Christ dwells among us and is one with us.
P: As Mary sings a lullaby and Joseph adores the child
C: Christ journeys with the marginal and welcomes the weary.
P: Come now to Bethlehem and see
C: The wonders God is doing among us.
Carol of Praise
1Angels we have heard on high,
sweetly singing o'er the plains,
and the mountains in reply,
echoing their joyous strains.
Refrain
Gloria in excelsis Deo;
gloria in excelsis Deo.
3Come to Bethlehem and see
him whose birth the angels sing;
come, adore on bended knee
Christ the Lord, the newborn King.
Refrain
Gloria in excelsis Deo;
gloria in excelsis Deo.
Prayer of the Day
P: Shine into our hearts the light of your wisdom, O God, and open our minds to the knowledge of your word, that in all things we may think and act according to your good will and may live continually in the light of your Son, Jesus Christ, who lives and reigns with you and the Holy Spirit, one God, now and forever.
C: Amen.
A Reading from the First Book of Samuel
1 Samuel 2:18–20, 26
18Samuel was ministering before the Lord, a boy wearing a linen ephod. 19His mother used to make for him a little robe and take it to him each year, when she went up with her husband to offer the yearly sacrifice. 20Then Eli would bless Elkanah and his wife, and say, May the Lord repay you with children by this woman for the gift that she made to the Lord; and then they would return to their home.
26Now the boy Samuel continued to grow both in stature and in favor with the Lord and with the people.
A Reading from the Psalms
Psalm 148
1
Hallelujah! Praise the
Lord
from the heavens;
praise God in the heights.
2
Praise the
Lord
, all you angels;
sing praise, all you hosts of heaven.
3
Praise the
Lord
, sun and moon;
sing praise, all you shining stars.
4
Praise the
Lord
, heaven of heavens,
and you waters above the heavens.
5
Let them praise the name of the
Lord
,
who commanded, and they were created,
6who made them stand fast forever and ever,
giving them a law that shall not pass away.
7
Praise the
Lord
from the earth,
you sea monsters and all deeps;
8fire and hail, snow and fog,
tempestuous wind, doing God's will;
9mountains and all hills,
fruit trees and all cedars;
10wild beasts and all cattle,
creeping things and flying birds;
11sovereigns of the earth and all peoples,
princes and all rulers of the world;
12young men and maidens,
old and young together.
13
Let them praise the name of the
Lord
,
whose name only is exalted, whose splendor is over earth and heaven.
14
The
Lord
has raised up strength for the people and praise for all faithful servants,
the children of Israel, a people who are near the
Lord
. Hallelujah!
A Reading from St. Paul's Epistle to the Colossians
Colossians 3:12–17
12As God's chosen ones, holy and beloved, clothe yourselves with compassion, kindness, humility, meekness, and patience. 13Bear with one another and, if anyone has a complaint against another, forgive each other; just as the Lord has forgiven you, so you also must forgive. 14Above all, clothe yourselves with love, which binds everything together in perfect harmony. 15And let the peace of Christ rule in your hearts, to which indeed you were called in the one body. And be thankful. 16Let the word of Christ dwell in you richly; teach and admonish one another in all wisdom; and with gratitude in your hearts sing psalms, hymns, and spiritual songs to God. 17And whatever you do, in word or deed, do everything in the name of the Lord Jesus, giving thanks to God the Father through him.
Carol of Acclamation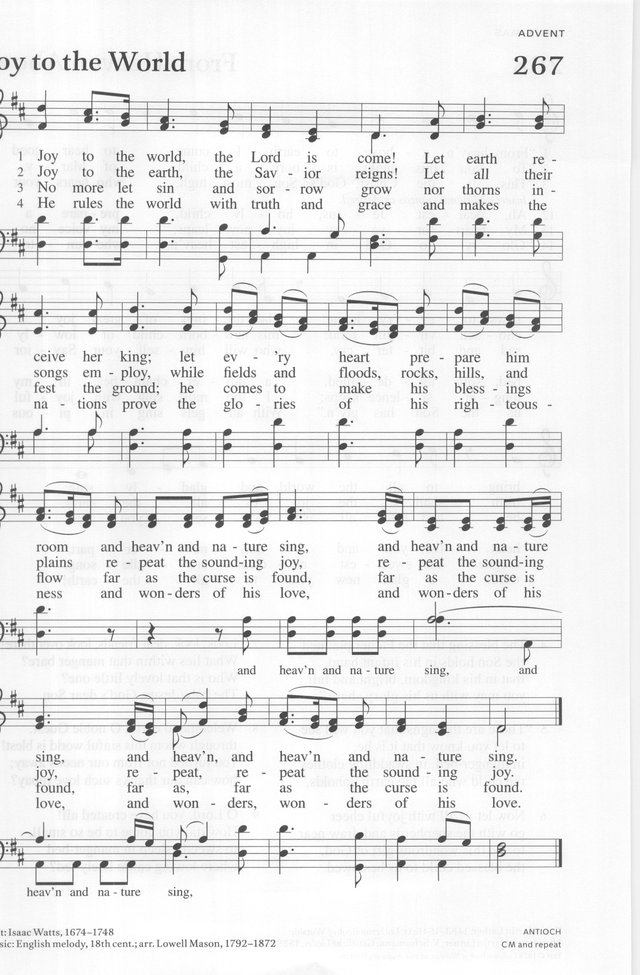 1Joy to the world, the Lord is come!
Let earth receive her king;
let ev'ry heart prepare him room
and heav'n and nature sing,
and heav'n and nature sing,
and heav'n, and heav'n and nature sing.
A Reading from the Gospel of St. Luke
Luke 2:41–52
P: The holy gospel according to St. Luke, the 2nd chapter.
C: Glory to you, O Lord.
41Now every year [Jesus'] parents went to Jerusalem for the festival of the Passover. 42And when he was twelve years old, they went up as usual for the festival. 43When the festival was ended and they started to return, the boy Jesus stayed behind in Jerusalem, but his parents did not know it. 44Assuming that he was in the group of travelers, they went a day's journey. Then they started to look for him among their relatives and friends. 45When they did not find him, they returned to Jerusalem to search for him. 46After three days they found him in the temple, sitting among the teachers, listening to them and asking them questions. 47And all who heard him were amazed at his understanding and his answers. 48When his parents saw him they were astonished; and his mother said to him, Child, why have you treated us like this? Look, your father and I have been searching for you in great anxiety. 49He said to them, Why were you searching for me? Did you not know that I must be in my Father's house? 50But they did not understand what he said to them. 51Then he went down with them and came to Nazareth, and was obedient to them. His mother treasured all these things in her heart.
52And Jesus increased in wisdom and in years, and in divine and human favor.
P: The Gospel of the Lord.
C: Praise to you, O Christ.
Sermon
Carol of the Day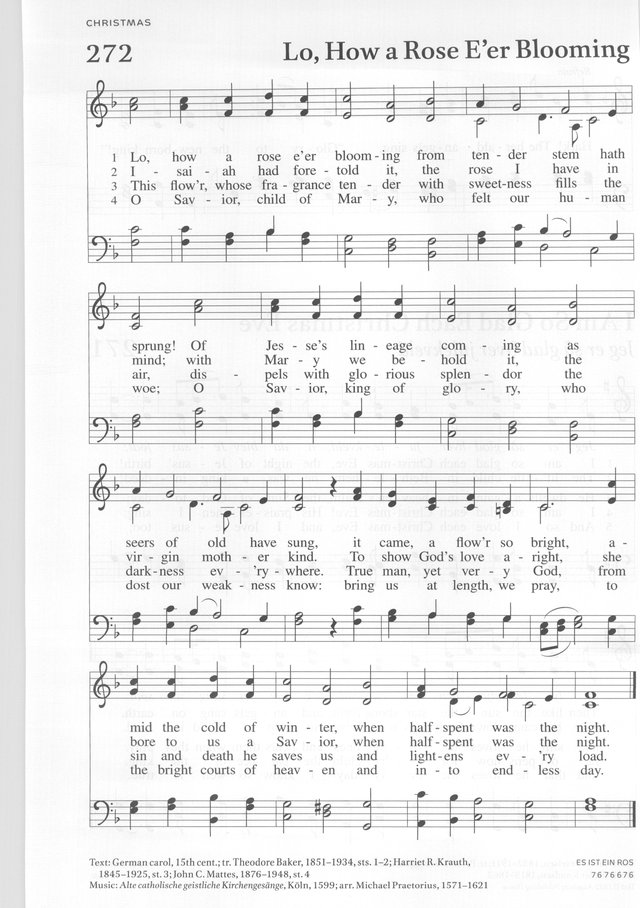 1Lo, how a rose e'er blooming
from tender stem hath sprung!
Of Jesse's lineage coming
as seers of old have sung,
it came, a flow'r so bright,
amid the cold of winter,
when half-spent was the night.
2Isaiah had foretold it,
the rose I have in mind;
with Mary we behold it,
the virgin mother kind.
To show God's love aright,
she bore to us a Savior,
when half-spent was the night.
3This flow'r, whose fragrance tender
with sweetness fills the air,
dispels with glorious splendor
the darkness ev'rywhere.
True man, yet very God,
from sin and death he saves us
and lightens ev'ry load.
4O Savior, child of Mary,
who felt our human woe;
O Savior, king of glory,
who dost our weakness know:
bring us at length, we pray,
to the bright courts of heaven
and into endless day.
Carol of Faith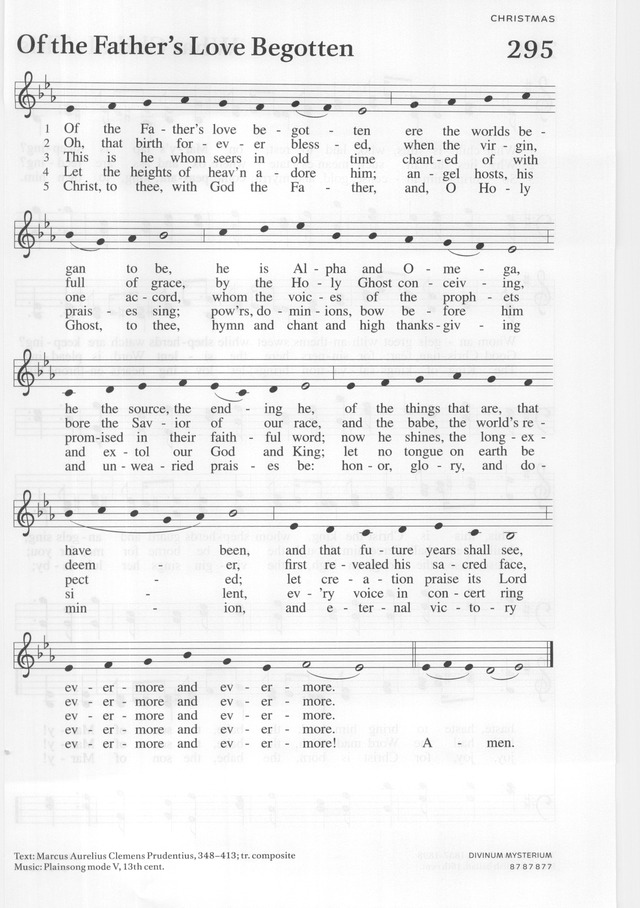 1Of the Father's love begotten
ere the worlds began to be,
he is Alpha and Omega,
he the source, the ending he,
of the things that are, that have been,
and that future years shall see,
evermore and evermore.
Responsive Prayer
P: Glory to God in the highest,
C: and peace to God's people on earth.
P: Blessed are you, Prince of peace. You rule the earth with truth and justice.
C: Send your gift of peace to all nations of the world.
P: Blessed are you, Son of Mary. You share our humanity.
C: Have mercy on the sick, the dying, and all who suffer this day.
P: Blessed are you, Son of God. You dwell among us as the Word made flesh.
C: Reveal yourself to us in word and sacrament that we may bear your light to all the world.
Lord's Prayer
Our Father, who art in heaven,
hallowed be thy name,
thy kingdom come,
thy will be done,
on earth as it is in heaven.
Give us this day our daily bread;
and forgive us our trespasses,
as we forgive those
who trespass against us;
and lead us not into temptation,
but deliver us from evil.
For thine is the kingdom,
and the power, and the glory,
forever and ever. Amen.
Blessing and Dismissal
P: Let us bless the Lord
C: Thanks be to God.
P: May you be filled with the wonder of Mary, the obedience of Joseph, the joy of the angels, the eagerness of the shepherds, the determination of the magi, and the peace of the Christ child. Almighty God, Father, + Son, and Holy Spirit, bless you now and forever.
C: Amen.
Sending Song
Refrain
Go tell it on the mountain,
over the hills and ev'rywhere;
go tell it on the mountain
that Jesus Christ is born!
1While shepherds kept their watching
o'er silent flocks by night,
behold, throughout the heavens
there shone a holy light.
Refrain
2The shepherds feared and trembled
when, lo! above the earth
rang out the angel chorus
that hailed our Savior's birth.
Refrain
3Down in a lonely manger
the humble Christ was born;
and God sent us salvation
that blessed Christmas morn.
Refrain
---
Weekly Announcements
We remember in our prayers
Sick & Injured:

Ken Harness
Marilyn Nelson
Rosalynn Schaeffer, aunt of Wilma Miller

The following medical professionals in our congregation:

Delaney Crutcher
Adam Houghton
Kelly Johnson
Sally Jo Martin
Marilyn Nelson
Jolene Patton
Becky Schoon
Pam Schwartzkopf
Jason Stotts
Jenna Sutton

Carle BroMenn Quality Management, Care Management, and Social Work Department
U.S. military known to us
Our sister congregation, First Evangelical Lutheran Church in Beardstown, Illinois
Altar Flowers Dedication
The flowers on the altar are given by Pam Harness in honor of Harold's birthday.
Seasonal Cancelations & Closures
There will be no Stretch & Pray today nor on January 2.
Prayer Group will not meet on Thursday, December 30. We will resume on Thursday, January 6, 2022.
The church office will only be open 2 days this week: Tuesday & Wednesday (Dec. 29 & 30). Also, Pastor will be on vacation. If you need assistance, please leave a message at the church office and someone will get back to you.
Offerings Given in 2021
If you would like to make an additional offering prior to 2021 year's end for federal tax purposes, the Finance Committee will take extra steps to ensure any offering received as of December 31, 2021, is credited to your giving for the year. Any questions, please ask either Jeff Lord, Bob Krampien, or Cheryl Schulke.
Celebration of Our Pastor
It is with the deepest gratitude that we would like to thank Pastor Henricks for his commitment to God and the congregation of Our Saviour Lutheran Church. His humble and faithful service has been such a blessing to all, and we want to celebrate him as he continues on the next part of his faith journey in retirement. Please join us as you are able for a celebration after service January 23.
Devotional Materials
There are many devotional materials on the blue bookshelf in the narthex. They are free for the taking. As you browse through them, take any that appeal to you for yourself or for sharing with someone else. If you have devotional materials that you would like to share, feel free to add them to the collection.
2022 Daily Texts
The church office still has a few copies of the 2022 edition of Daily Texts that are available until the last one is claimed. Leave a check for $10 with the notation Daily Texts in the collection plate and Megan will work out the best way to get it to you.
Altar Flowers Sign-Up – Now into 2022
The Flower Chart is located on the bulletin board in the fellowship hall. Cost is $25 a vase. New charts for the first 6 months of 2022 have been added. This is your chance to grab a special date for your special someone or special occasion.