January 2, 2022 – Second Sunday of Christmas
You can follow the order of the service here.
Feel free to also check out the following:
---
Gathering and Announcements
Entrance Hymn
1O come, all ye faithful, joyful and triumphant!
O come ye, O come ye to Bethlehem;
come and behold him, born the king of angels:
Refrain
O come, let us adore him,
O come, let us adore him,
O come, let us adore him, Christ the Lord!
3Sing, choirs of angels, sing in exultation,
sing, all ye citizens of heaven above!
Glory to God in the highest:
Refrain
4Yea, Lord, we greet thee, born this happy morning;
Jesus, to thee be all glory giv'n!
Word of the Father, now in flesh appearing:
Refrain
Opening Dialogue
P: In the stable laying in the manger
C: Christ dwells among us and is one with us.
P: As Mary sings a lullaby and Joseph adores the child
C: Christ journeys with the marginal and welcomes the weary.
P: Come now to Bethlehem and see
C: The wonders God is doing among us.
Carol of Praise
1Angels we have heard on high,
sweetly singing o'er the plains,
and the mountains in reply,
echoing their joyous strains.
Refrain
Gloria in excelsis Deo;
gloria in excelsis Deo.
3Come to Bethlehem and see
him whose birth the angels sing;
come, adore on bended knee
Christ the Lord, the newborn King.
Refrain
Gloria in excelsis Deo;
gloria in excelsis Deo.
Prayer of the Day
P: Almighty God, you have filled all the earth with the light of your incarnate Word. By your grace empower us to reflect your light in all that we do, through Jesus Christ, our Savior and Lord, who lives and reigns with you and the Holy Spirit, one God, now and forever.
C: Amen.
A Reading from the Book of Jeremiah
Jeremiah 31:7–14
Sing aloud with gladness for Jacob,
and raise shouts for the chief of the nations;
proclaim, give praise, and say,
"Save, O
Lord
, your people,
the remnant of Israel."
8See, I am going to bring them from the land of the north,
and gather them from the farthest parts of the earth,
among them the blind and the lame,
those with child and those in labor, together;
a great company, they shall return here.
9With weeping they shall come,
and with consolations I will lead them back,
I will let them walk by brooks of water,
in a straight path in which they shall not stumble;
for I have become a father to Israel,
and Ephraim is my firstborn.
10
Hear the word of the
Lord
, O nations,
and declare it in the coastlands far away;
say, "He who scattered Israel will gather him,
and will keep him as a shepherd a flock."
11
For the
Lord
has ransomed Jacob,
and has redeemed him from hands too strong for him.
12They shall come and sing aloud on the height of Zion,
and they shall be radiant over the goodness of the
Lord
,
over the grain, the wine, and the oil,
and over the young of the flock and the herd;
their life shall become like a watered garden,
and they shall never languish again.
13Then shall the young women rejoice in the dance,
and the young men and the old shall be merry.
I will turn their mourning into joy,
I will comfort them, and give them gladness for sorrow.
14I will give the priests their fill of fatness,
and my people shall be satisfied with my bounty,
A Reading from the Psalms
Psalm 147:12–20
12Worship the LORD, O Jerusalem;
praise your God, O Zion,
13who has strengthened the bars of your gates
and has blessed your children within you.
14God has established peace on your borders
and satisfies you with the finest wheat.
15God sends out a command to the earth,
a word that runs very swiftly.
16God gives snow like wool,
scattering frost like ashes.
17God scatters hail like bread crumbs.
Who can stand against God's cold?
18The LORD sends forth the word and melts them;
the wind blows, and the waters flow.
19God declares the word to Jacob,
statutes and judgments to Israel.
20The LORD has not done so to any other nation;
they do not know God's judgments. Hallelujah!
A Reading from the Epistle to the Ephesians
Ephesians 1:3–14
3Blessed be the God and Father of our Lord Jesus Christ, who has blessed us in Christ with every spiritual blessing in the heavenly places, 4just as he chose us in Christ before the foundation of the world to be holy and blameless before him in love. 5He destined us for adoption as his children through Jesus Christ, according to the good pleasure of his will, 6to the praise of his glorious grace that he freely bestowed on us in the Beloved. 7In him we have redemption through his blood, the forgiveness of our trespasses, according to the riches of his grace 8that he lavished on us. With all wisdom and insight 9he has made known to us the mystery of his will, according to his good pleasure that he set forth in Christ, 10as a plan for the fullness of time, to gather up all things in him, things in heaven and things on earth. 11In Christ we have also obtained an inheritance, having been destined according to the purpose of him who accomplishes all things according to his counsel and will, 12so that we, who were the first to set our hope on Christ, might live for the praise of his glory. 13In him you also, when you had heard the word of truth, the gospel of your salvation, and had believed in him, were marked with the seal of the promised Holy Spirit; 14this is the pledge of our inheritance toward redemption as God's own people, to the praise of his glory.
Carol of Acclamation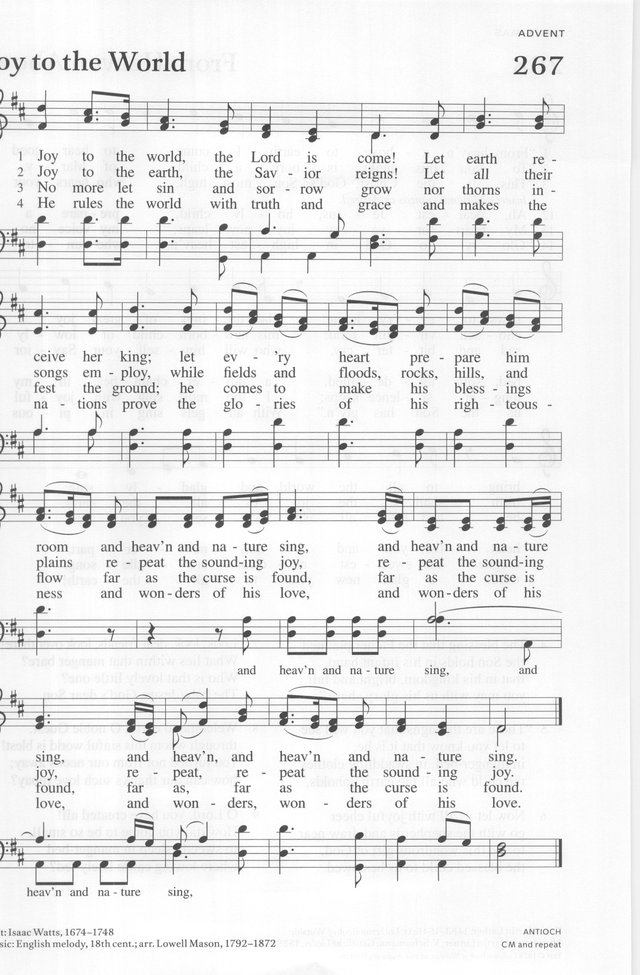 1Joy to the world, the Lord is come!
Let earth receive her king;
let ev'ry heart prepare him room
and heav'n and nature sing,
and heav'n and nature sing,
and heav'n, and heav'n and nature sing.
A Reading from the Gospel of St. John
John 1:1–18
P: The holy gospel according to St. John, the 1st chapter.
C: Glory to you, O Lord.
1In the beginning was the Word, and the Word was with God, and the Word was God. 2He was in the beginning with God. 3All things came into being through him, and without him not one thing came into being. What has come into being 4in him was life, and the life was the light of all people. 5The light shines in the darkness, and the darkness did not overcome it.
6There was a man sent from God, whose name was John. 7He came as a witness to testify to the light, so that all might believe through him. 8He himself was not the light, but he came to testify to the light. 9The true light, which enlightens everyone, was coming into the world.
10He was in the world, and the world came into being through him; yet the world did not know him. 11He came to what was his own, and his own people did not accept him. 12But to all who received him, who believed in his name, he gave power to become children of God, 13who were born, not of blood or of the will of the flesh or of the will of man, but of God.
14And the Word became flesh and lived among us, and we have seen his glory, the glory as of a father's only son, full of grace and truth. 15(John testified to him and cried out, "This was he of whom I said, 'He who comes after me ranks ahead of me because he was before me.'") 16From his fullness we have all received, grace upon grace. 17The law indeed was given through Moses; grace and truth came through Jesus Christ. 18No one has ever seen God. It is God the only Son, who is close to the Father's heart, who has made him known.
P: The Gospel of the Lord.
C: Praise to you, O Christ.
Sermon
Carol of the Day
1Let our gladness have no end, Hallelujah!
for to earth did Christ descend. Hallelujah!
Refrain
On this day God gave us
Christ, the Son, to save us;
Christ, the Son, to save us.
2Prophesied in days of old, Hallelujah!
God has sent Him as foretold. Hallelujah!
Refrain
On this day God gave us
Christ, the Son, to save us;
Christ, the Son, to save us.
Carol of Faith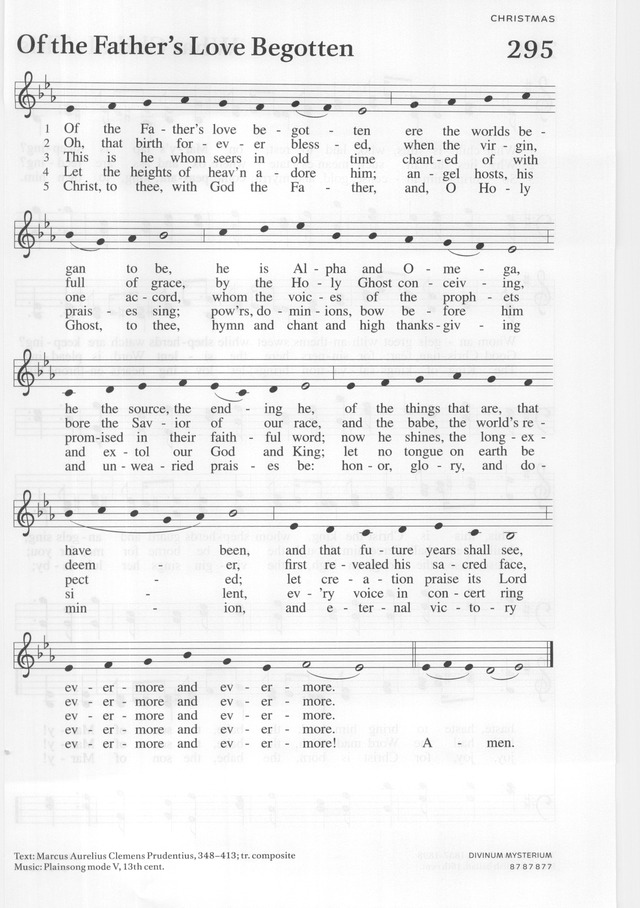 1Of the Father's love begotten
ere the worlds began to be,
he is Alpha and Omega,
he the source, the ending he,
of the things that are, that have been,
and that future years shall see,
evermore and evermore.
5Christ, to thee, with God the Father,
and, O Holy Ghost, to thee,
hymn and chant and high thanksgiving
and unwearied praises be:
honor, glory, and dominion,
and eternal victory
evermore and evermore!
Amen.
Communion Sentences
P: We are Christmas people. As Jesus was born in the stable, we are born again to everlasting life.
C: We come to worship and bow down, to kneel and give thanks. We have come to worship Jesus.
P: In this meal we celebrate the gift God has given to us.
C: In the sharing of the bread and wine, we find forgiveness of sin and God's resurrection presence.
P: God has given us this gift to share.
C: We come to take part and be changed.
Words of Institution
P: In the night in which he was betrayed, our Lord Jesus took bread, and gave thanks; broke it, and gave it to his disciples, saying: Take and eat; this is my body, given for you. Do this for the remembrance of me.
Again, after supper, he took the cup, gave thanks, and gave it for all to drink, saying: This cup is the new covenant in my blood, shed for you and for all people for the forgiveness of sin. Do this for the remembrance of me.
Lord's Prayer
Our Father, who art in heaven,
hallowed be thy name,
thy kingdom come,
thy will be done,
on earth as it is in heaven.
Give us this day our daily bread;
and forgive us our trespasses,
as we forgive those
who trespass against us;
and lead us not into temptation,
but deliver us from evil.
For thine is the kingdom,
and the power, and the glory,
forever and ever. Amen.
Communion
P: The body and blood of our Lord Jesus Christ strengthen you and keep you in his grace.
C: Amen.
Post-Communion Prayer
P: We give you thanks, O God, that in this bread and cup of Christ's very life, you give us food for our journey. As you led the magi by a star, as you brought the holy family home again, guide us on the way unfolding before us. Wherever we go, may our lives proclaim good news of great joy in Jesus Christ our Lord.
C: Amen.
Benediction
P: On this new day, the light of Christ shines bright and full.
C: With angels, thousand fold, we welcome him.
P: Christ the Lord is born for us.
C: Alleluia! Born for us, a Savior! Alleluia!
P: The blessing of Almighty God, the Father, the Son, and the Holy Spirit be with you all.
C: Amen! Amen! Amen!
Dismissal
P: Go in peace. Christ is with you.
C: Thanks be to God.
Closing Hymn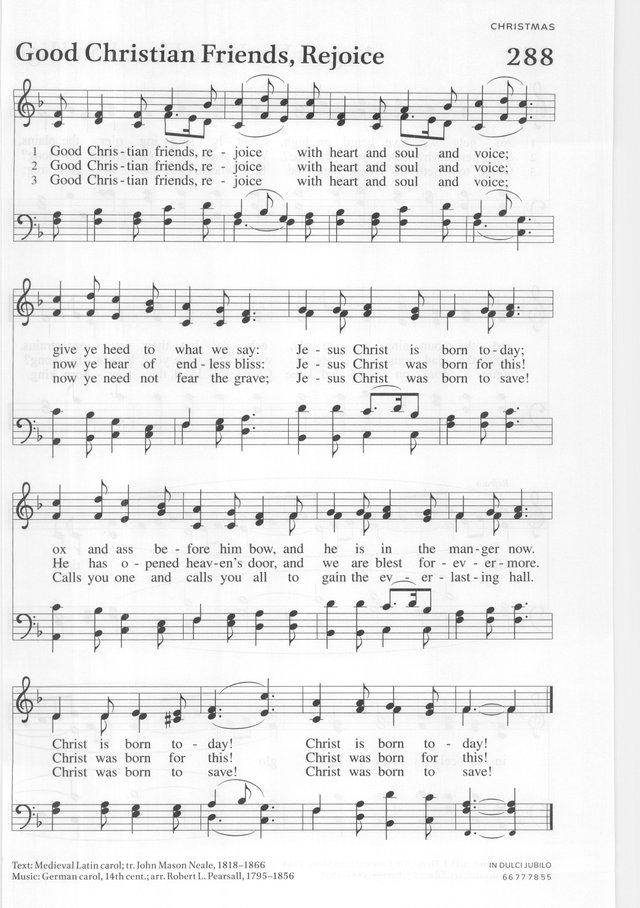 1Good Christian friends, rejoice
with heart and soul and voice;
give ye heed to what we say:
Jesus Christ is born today;
ox and ass before him bow,
and he is in the manger now.
Christ is born today!
Christ is born today!
2Good Christian friends, rejoice
with heart and soul and voice;
now ye hear of endless bliss:
Jesus Christ was born for this!
He has opened heaven's door,
and we are blest forevermore.
Christ was born for this!
Christ was born for this!
3Good Christian friends, rejoice
with heart and soul and voice;
now ye need not fear the grave;
Jesus Christ was born to save!
Calls you one and calls you all
to gain the everlasting hall.
Christ was born to save!
Christ was born to save!
---
Weekly Announcements
We remember in our prayers
Sick & Injured:

Ken Harness
Rosalynn Schaeffer, aunt of Wilma Miller

The following medical professionals in our congregation:

Delaney Crutcher
Adam Houghton
Kelly Johnson
Sally Jo Martin
Jolene Patton
Becky Schoon
Pam Schwartzkopf
Jason Stotts
Jenna Sutton

Carle BroMenn Quality Management, Care Management, and Social Work Department
U.S. military known to us
Our sister congregation, First Evangelical Lutheran Church in Beardstown, Illinois
Seasonal Cancelations & Closures
There will be no Stretch & Pray today. We will resume next Sunday, January 9.
The church office will be closed Monday, January 3.
Celebration of Our Pastor
It is with the deepest gratitude that we would like to thank Pastor Henricks for his commitment to God and the congregation of Our Saviour Lutheran Church. His humble and faithful service has been such a blessing to all, and we want to celebrate him as he continues on the next part of his faith journey in retirement. Please join us as you are able for a celebration after service January 23.
Altar Flowers Sign-Up
The Flower Chart is located on the bulletin board in the fellowship hall. Cost is $25 a vase. New charts for the first 9 months of 2022 have been added. This is your chance to grab a special date for your special someone or special occasion.
2022 Daily Texts
The church office still has a few copies of the 2022 edition of Daily Texts that are available until the last one is claimed. Leave a check for $10 with the notation Daily Texts in the collection plate and Megan will work out the best way to get it to you.
Devotional Materials
There are many devotional materials on the blue bookshelf in the narthex. They are free for the taking. As you browse through them, take any that appeal to you for yourself or for sharing with someone else. If you have devotional materials that you would like to share, feel free to add them to the collection.