January 23, 2022 – Third Sunday after Epiphany
You can follow the order of the service here.
Feel free to also check out the following:
---
Gathering and Announcements
Confession & Forgiveness
P: Blessed be the holy Trinity, one God, who creates us, redeems us, and calls us by name.
C: Amen.
P: Let us confess our sin in the presence of God and of one another.
Silence is kept for reflection.
P: Most merciful God,
C: we confess that we have sinned against you and your beloved children. We have turned our faces away from your glory when it did not appear as we expected. We have rejected your word when it made us confront ourselves. We have failed to show hospitality to those you called us to welcome. Accept our repentance for the things we have done and the things we have left undone. For the sake of Jesus Christ, have mercy on us. Forgive us and lead us, that we may bathe in the glory of your Son born among us, and reflect your love for all creation. Amen.
Entrance Hymn
1O Zion, haste, your mission high fulfilling,
to tell to all the world that God is light;
that he who made all nations is not willing
one soul should perish, lost in shades of night.
Refrain
Publish glad tidings, tidings of peace,
tidings of Jesus, redemption, and release.
2Publish to ev'ry people, tongue, and nation
that God, in whom we live and move, is love;
Tell how he stooped to save his lost creation
and died on earth that we might live above.
Refrain
3He comes again! O Zion, ere you meet him,
make known to ev'ry heart his saving grace;
let none whom he has ransomed fail to greet him,
through your neglect, unfit to see his face.
Refrain
Greeting
P: The boundless grace of our Lord Jesus Christ, the wisdom of God, and the light of the Holy Spirit be with you all.
C: And also with you.
Prayer of the Day
P: Blessed Lord God, you have caused the holy scriptures to be written for the nourishment of your people. Grant that we may hear them, read, mark, learn, and inwardly digest them, that, comforted by your promises, we may embrace and forever hold fast to the hope of eternal life, through your Son, Jesus Christ our Lord.
C: Amen.
A Reading from the Book of Ecclesiastes
Ecclesiastes 3:1–8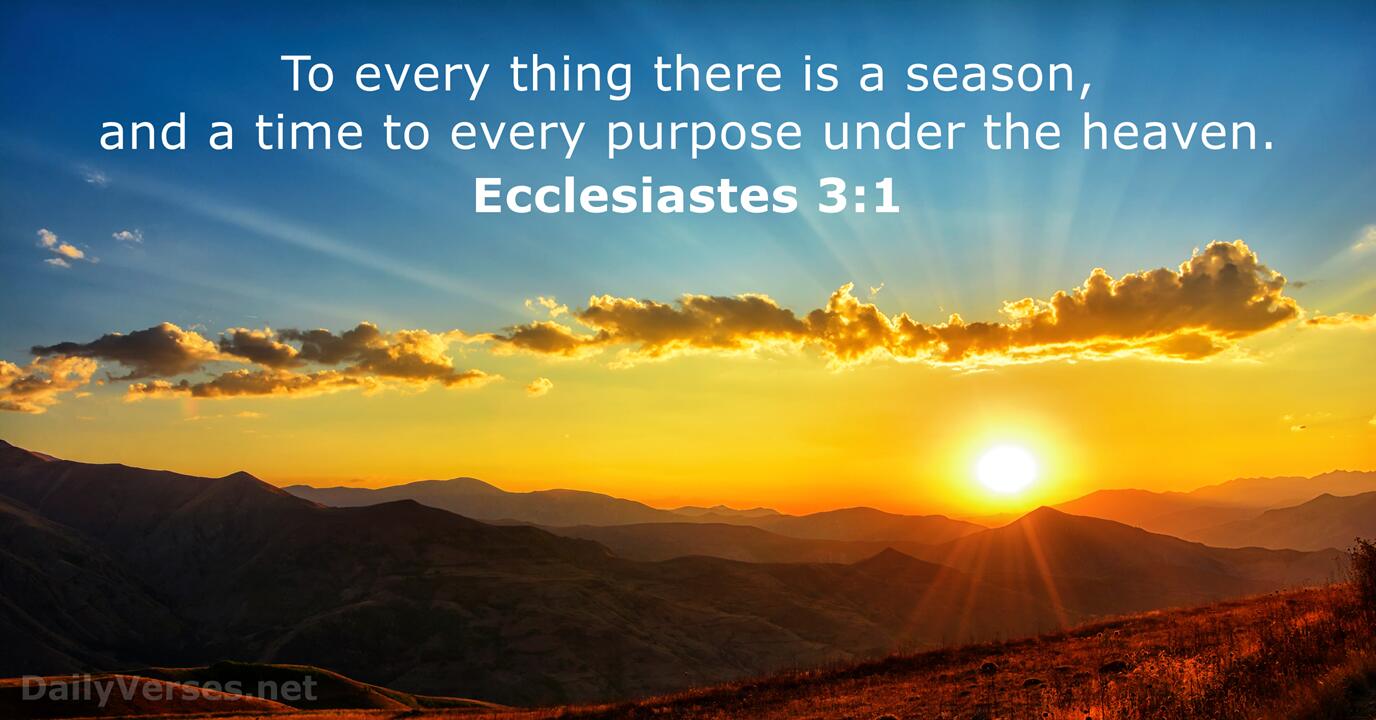 1For everything there is a season, and a time for every matter under heaven:
2a time to be born, and a time to die;
a time to plant, and a time to pluck up what is planted;
3a time to kill, and a time to heal;
a time to break down, and a time to build up;
4a time to weep, and a time to laugh;
a time to mourn, and a time to dance;
5a time to throw away stones, and a time to gather stones together;
a time to embrace, and a time to refrain from embracing;
6a time to seek, and a time to lose;
a time to keep, and a time to throw away;
7a time to tear, and a time to sew;
a time to keep silence, and a time to speak;
8a time to love, and a time to hate;
a time for war, and a time for peace.
A Reading from St. Paul's Second Epistle to the Corinthians
2 Corinthians 4:1–12
1Therefore, since it is by God's mercy that we are engaged in this ministry, we do not lose heart. 2We have renounced the shameful things that one hides; we refuse to practice cunning or to falsify God's word; but by the open statement of the truth we commend ourselves to the conscience of everyone in the sight of God. 3And even if our gospel is veiled, it is veiled to those who are perishing. 4In their case the god of this world has blinded the minds of the unbelievers, to keep them from seeing the light of the gospel of the glory of Christ, who is the image of God. 5For we do not proclaim ourselves; we proclaim Jesus Christ as Lord and ourselves as your slaves for Jesus' sake. 6For it is the God who said, Let light shine out of darkness, who has shone in our hearts to give the light of the knowledge of the glory of God in the face of Jesus Christ.
7But we have this treasure in clay jars, so that it may be made clear that this extraordinary power belongs to God and does not come from us. 8We are afflicted in every way, but not crushed; perplexed, but not driven to despair; 9persecuted, but not forsaken; struck down, but not destroyed; 10always carrying in the body the death of Jesus, so that the life of Jesus may also be made visible in our bodies. 11For while we live, we are always being given up to death for Jesus' sake, so that the life of Jesus may be made visible in our mortal flesh. 12So death is at work in us, but life in you.
A Reading from St. Paul's Epistle to the Philippians
Philippians 1:1–11
1Paul and Timothy, servants of Christ Jesus,
To all the saints in Christ Jesus who are at Philippi, with the bishops and deacons:
2Grace to you and peace from God our Father and the Lord Jesus Christ.
3I thank my God in all my remembrance of you, 4always in every prayer of mine for you all making my prayer with joy, 5thankful for your partnership in the gospel from the first day until now. 6And I am sure that he who began a good work in you will bring it to completion at the day of Jesus Christ. 7It is right for me to feel thus about you all, because I hold you in my heart, for you are all partakers with me of grace, both in my imprisonment and in the defense and confirmation of the gospel. 8For God is my witness, how I yearn for you all with the affection of Christ Jesus. 9And it is my prayer that your love may abound more and more, with knowledge and all discernment, 10so that you may approve what is excellent, and may be pure and blameless for the day of Christ, 11filled with the fruits of righteousness which come through Jesus Christ, to the glory and praise of God.
Sermon: The Season We Shared
Music for Meditation
Apostles' Creed
I believe in God, the Father almighty,
creator of heaven and earth.
I believe in Jesus Christ, God's only Son, our Lord,
who was conceived by the Holy Spirit,
born of the virgin Mary,
suffered under Pontius Pilate,
was crucified, died, and was buried;
he descended to the dead.
On the third day he rose again;
he ascended into heaven,
he is seated at the right hand of the Father,
and he will come to judge the living and the dead.
I believe in the Holy Spirit,
the holy catholic church,
the communion of saints,
the forgiveness of sins,
the resurrection of the body,
and the life everlasting. Amen.
Prayers of Intercession
Lord's Prayer
Our Father, who art in heaven,
hallowed be thy name,
thy kingdom come,
thy will be done,
on earth as it is in heaven.
Give us this day our daily bread;
and forgive us our trespasses,
as we forgive those
who trespass against us;
and lead us not into temptation,
but deliver us from evil.
For thine is the kingdom,
and the power, and the glory,
forever and ever. Amen.
Blessing
P: The God of glory dwell in you richly, name you beloved, and shine brightly on your path; and the blessing of almighty God, the Father, the Son, and the Holy Spirit, be upon you and remain with you always.
C: Amen.
Dismissal
P: Go in peace. Christ is your light.
C: Thanks be to God.
Sending Hymn 1Come, ye thankful people, come;
raise the song of harvest home.
All be safely gathered in
ere the winter storms begin.
God, our maker, doth provide
for our wants to be supplied.
Come to God's own temple, come,
raise the song of harvest home.
2All the world is God's own field,
fruit unto his praise to yield;
wheat and tares together sown,
unto joy or sorrow grown.
First the blade, and then the ear,
then the full corn shall appear.
Lord of harvest, grant that we
wholesome grain and pure may be.
---
Weekly Announcements
We remember in our prayers
Dennis & Jackie Strong and family on the passing of his sister, Carol Graham
Sick & Injured:

Sonja Goyen, mother of Ed Churchill
Ken Harness
Rosalynn Schaeffer, aunt of Wilma Miller

The following medical professionals in our congregation:

Delaney Crutcher
Adam Houghton
Kelly Johnson
Sally Jo Martin
Jolene Patton
Becky Schoon
Pam Schwartzkopf
Jason Stotts
Jenna Sutton

Carle BroMenn Quality Management, Care Management, and Social Work Department
U.S. military known to us
Our sister congregation, First Evangelical Lutheran Church in Beardstown, Illinois
Altar Flowers Dedication
The flowers on the altar are given by Roger & Pam Schwartzkopf in memory of Pam's sister, Kim Spencer.
Annual Meeting
Mark your calendars. The Annual Congregational Meeting will be held Thursday, January 27 at 7:00 p.m. A forum on the Call Process will be held today after the farewell ceremony for Pastor Henricks.
Celebration of Our Pastor
It is with the deepest gratitude that we would like to thank Pastor Henricks for his commitment to God and the congregation of Our Saviour Lutheran Church. His humble and faithful service has been such a blessing to all, and we want to celebrate him as he continues on the next part of his faith journey in retirement. Please join us as you are able for a celebration after service today.
Devotional Materials
There are many devotional materials on the blue bookshelf in the narthex. They are free for the taking. As you browse through them, take any that appeal to you for yourself or for sharing with someone else. If you have devotional materials that you would like to share, feel free to add them to the collection.
Altar Flowers Sign-Up
The Flower Chart is located on the bulletin board in the fellowship hall. Cost is $25 a vase. New charts for the first 9 months of 2022 have been added. This is your chance to grab a special date for your special someone or special occasion.