February 13, 2022 – Sixth Sunday after Epiphany
You can follow the order of the service here.
Feel free to also check out the following:
---
Gathering and Announcements
Confession & Forgiveness
P: Blessed be the holy Trinity, one God, who creates us, redeems us, and calls us by name.
C: Amen.
P: Let us confess our sin in the presence of God and of one another.
Silence is kept for reflection.
P: Most merciful God,
C: we confess that we have sinned against you and your beloved children. We have turned our faces away from your glory when it did not appear as we expected. We have rejected your word when it made us confront ourselves. We have failed to show hospitality to those you called us to welcome. Accept our repentance for the things we have done and the things we have left undone. For the sake of Jesus Christ, have mercy on us. Forgive us and lead us, that we may bathe in the glory of your Son born among us, and reflect your love for all creation. Amen.
P: Rejoice in this good news: In Christ Jesus, your sins are forgiven. You are descendants of the Most High, adopted into the household of Christ, and inheritors of eternal life. Live as freed and forgiven children of God.
C: Amen.
Entrance Hymn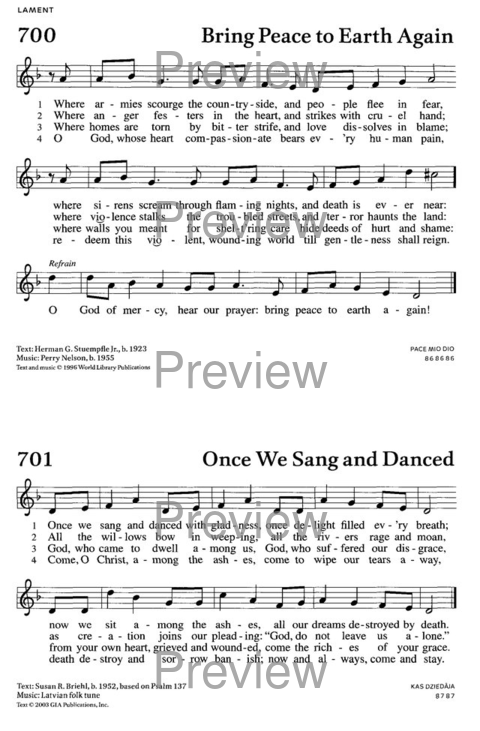 1God of grace and God of glory,
on your people pour your pow'r,
crown your ancient church's story;
bring its bud to glorious flow'r.
Grant us wisdom, grant us courage
for the facing of this hour,
for the facing of this hour.
2Lo! The hosts of evil round us
scorn the Christ, assail his ways!
From the fears that long have bound us
free our hearts to faith and praise.
Grant us wisdom, grant us courage
for the living of these days,
for the living of these days.
Greeting
P: The grace of our Lord Jesus Christ, the love of God, and the communion of the Holy Spirit be with you all.
C: And also with you.
Prayer of the Day
P: Living God, in Christ you make all things new. Transform the poverty of our nature by the riches of your grace, and in the renewal of our lives make known your glory, through Jesus Christ, our Savior and Lord.
C: Amen.
A Reading from the Book of Jeremiah
Jeremiah 17:5–10
Cursed are those who trust in mere mortals
and make mere flesh their strength,
whose hearts turn away from the
Lord
.
6They shall be like a shrub in the desert,
and shall not see when relief comes.
They shall live in the parched places of the wilderness,
in an uninhabited salt land.
7
Blessed are those who trust in the
Lord
,
8They shall be like a tree planted by water,
sending out its roots by the stream.
It shall not fear when heat comes,
and its leaves shall stay green;
in the year of drought it is not anxious,
and it does not cease to bear fruit.
9The heart is devious above all else;
it is perverse—
who can understand it?
10
I the
Lord
test the mind
and search the heart,
to give to all according to their ways,
according to the fruit of their doings.
A Reading from the Psalms
Psalm 1
1Happy are they who have not walked in the counsel of the wicked,
nor lingered in the way of sinners, nor sat in the seats of the scornful!
2
Their delight is in the law of the
Lord
,
and they meditate on God's teaching day and night.
3They are like trees planted by streams of water, bearing fruit in due season, with leaves that do not wither;
everything they do shall prosper.
4It is not so with the wicked;
they are like chaff which the wind blows away.
5Therefore the wicked shall not stand upright when judgment comes,
nor the sinner in the council of the righteous.
6
For the
Lord
knows the way of the righteous,
but the way of the wicked shall be destroyed.
A Reading from St. Paul's First Epistle to the Corinthians
1 Corinthians 15:12–20
12Now if Christ is proclaimed as raised from the dead, how can some of you say there is no resurrection of the dead? 13If there is no resurrection of the dead, then Christ has not been raised; 14and if Christ has not been raised, then our proclamation has been in vain and your faith has been in vain. 15We are even found to be misrepresenting God, because we testified of God that he raised Christ—whom he did not raise if it is true that the dead are not raised. 16For if the dead are not raised, then Christ has not been raised. 17If Christ has not been raised, your faith is futile and you are still in your sins. 18Then those also who have died in Christ have perished. 19If for this life only we have hoped in Christ, we are of all people most to be pitied.
20But in fact Christ has been raised from the dead, the first fruits of those who have died.
A Reading from the Gospel of St. Luke
Luke 6:17–26
P: The holy gospel according to St. Luke, the 6th chapter.
C: Glory to you, O Lord.
17[Jesus] came down with [the twelve] and stood on a level place, with a great crowd of his disciples and a great multitude of people from all Judea, Jerusalem, and the coast of Tyre and Sidon. 18They had come to hear him and to be healed of their diseases; and those who were troubled with unclean spirits were cured. 19And all in the crowd were trying to touch him, for power came out from him and healed all of them.
20Then he looked up at his disciples and said:
Blessed are you who are poor,
for yours is the kingdom of God.
21Blessed are you who are hungry now,
for you will be filled.
Blessed are you who weep now,
for you will laugh.
22"Blessed are you when people hate you, and when they exclude you, revile you, and defame you on account of the Son of Man. 23Rejoice in that day and leap for joy, for surely your reward is great in heaven; for that is what their ancestors did to the prophets.
24But woe to you who are rich,
for you have received your consolation.
25Woe to you who are full now,
for you will be hungry.
Woe to you who are laughing now,
for you will mourn and weep.
26Woe to you when all speak well of you, for that is what their ancestors did to the false prophets.
P: The Gospel of the Lord.
C: Praise to you, O Christ.
Sermon
Music for Meditation
Apostles' Creed
I believe in God, the Father almighty,
creator of heaven and earth.
I believe in Jesus Christ, God's only Son, our Lord,
who was conceived by the Holy Spirit,
born of the virgin Mary,
suffered under Pontius Pilate,
was crucified, died, and was buried;
he descended to the dead.
On the third day he rose again;
he ascended into heaven,
he is seated at the right hand of the Father,
and he will come to judge the living and the dead.
I believe in the Holy Spirit,
the holy catholic church,
the communion of saints,
the forgiveness of sins,
the resurrection of the body,
and the life everlasting. Amen.
Prayers of Intercession
Lord's Prayer
Our Father, who art in heaven,
hallowed be thy name,
thy kingdom come,
thy will be done,
on earth as it is in heaven.
Give us this day our daily bread;
and forgive us our trespasses,
as we forgive those
who trespass against us;
and lead us not into temptation,
but deliver us from evil.
For thine is the kingdom,
and the power, and the glory,
forever and ever. Amen.
Blessing
P: God, who leads you in pathways of righteousness, who rejoices over you, and who calls you by name, bless your going out and your coming in, today and forever.
C: Amen.
Dismissal
P: Go with Christ into a weary world. Share the good news.
C: Thanks be to God.
Sending Hymn
1My sould cries out with a joyful shout that the God of my heart is great,
and my spirit sings of the wondrous things that you bring to the ones who wait.
You fixed your sight on your servant's plight, and my weakness you did not spurn,
so from east to west shall my name be blest. Could the wolrd be about to turn?
Refrain
My heart shall sing of the day you bring.
Let the fires of your justice burn.
Wipe away all tears, for the dawn draws near,
and the world is about to turn.
2Though I am small, my God, my all, you work great things in me,
and you mercy will last from the depth of the past to the end of the age to be.
Your very name puts the proud to shame, and to those who would for you yearn,
you will show your might, put the strong to flight, for the wolrd is about to turn.
Refrain
My heart shall sing of the day you bring.
Let the fires of your justice burn.
Wipe away all tears, for the dawn draws near,
and the world is about to turn.
---
Weekly Announcements
We remember in our prayers
Sick & Injured:

Gennie Everson, mother of Joan Everson
Sonja Goyen, mother of Ed Churchill
Ken Harness
Suzanne Kaehlert
Rosalynn Schaeffer, aunt of Wilma Miller
Richard Wiley, father of Vic Wiley

The following medical professionals in our congregation:

Delaney Crutcher
Adam Houghton
Kelly Johnson
Sally Jo Martin
Jolene Patton
Becky Schoon
Pam Schwartzkopf
Jenna Sutton

Carle BroMenn Quality Management, Care Management, and Social Work Department
U.S. military known to us
Our sister congregation, First Evangelical Lutheran Church in Beardstown, Illinois
Altar Flowers Dedication
The flowers on the altar are given by Daryl & Rita Miller in honor of our parents.
Red Cross Blood Drive
During a time when there are acute blood shortages, OSLC will be hosting an American Red Cross Blood Drive on Saturday, February 19 from 8 a.m. until 12 noon. (Note: this drive was originally scheduled for February 5 but was rescheduled.) The blood drive will be located in the fellowship hall. More information can be found on the church website.
Emails from the Church Office
Several mass emails have gone out from the church just in the last couple of weeks, including this month's issue of The Way. Are you getting them? Please contact the church office if you are not so we can work on ways to get your email filter to accept mailings from church.
Altar Flowers Sign-Up
The Flower Chart is located on the bulletin board in the fellowship hall. Cost is $25 a vase. Keep in mind that there are two vases that can be sponsored each Sunday, and there are several Sundays available in the next several months.