March 20, 2022 – Third Sunday in Lent
You can follow the order of the service here.
Feel free to also check out the following:
---
Gathering and Announcements
Confession & Forgiveness
P: In the name of God, who makes a way in the wilderness, walks with us, and guides us in our pilgrimage.
C: Amen.
Silence is kept for reflection.
P: Holy One,
C: we confess that we have wandered far from you: we have not trusted your promises, we have ignored your prophets in our own day, we have squandered our inheritance of grace, we have failed to recognize you in our midst. Have mercy on us! Forgive us and turn us again to you. Teach us to follow in your ways, assure us again of your love, and help us to love our neighbor. Amen.
P: Beloved in Christ, the Word draws near to you, and all who call out to God shall be saved. In Jesus, God comes to you again and again and gathers you under wings of love. In Jesus' name, your sins are forgiven. God journeys with you and teaches you how to live in love.
C: Amen.
Entrance Hymn
1In the cross of Christ I glory,
tow'ring o'er the wrecks of time.
All the light of sacred story
gathers round its head sublime.
2When the woes of life o'ertake me,
hopes deceive, and fears annoy,
never shall the cross forsake me;
lo, it glows with peace and joy.
Greeting
P: The grace of our Lord Jesus Christ, the love of God, and the communion of the Holy Spirit be with you all.
C: And also with you.
Prayer of the Day
P: Eternal God, your kingdom has broken into our troubled world through the life, death, and resurrection of your Son. Help us to hear your word and obey it, and bring your saving love to fruition in our lives, through Jesus Christ, our Savior and Lord, who lives and reigns with you and the Holy Spirit, one God, now and forever.
C: Amen.
A Reading from the Book of Isaiah
Isaiah 55:1–9
1Ho, everyone who thirsts,
come to the waters;
and you that have no money,
come, buy and eat!
Come, buy wine and milk
without money and without price.
2Why do you spend your money for that which is not bread,
and your labor for that which does not satisfy?
Listen carefully to me, and eat what is good,
and delight yourselves in rich food.
3Incline your ear, and come to me;
listen, so that you may live.
I will make with you an everlasting covenant,
my steadfast, sure love for David.
4See, I made him a witness to the peoples,
a leader and commander for the peoples.
5See, you shall call nations that you do not know,
and nations that do not know you shall run to you,
because of the
Lord
your God, the Holy One of Israel,
for he has glorified you.
6
Seek the
Lord
while he may be found,
call upon him while he is near;
7let the wicked forsake their way,
and the unrighteous their thoughts;
let them return to the
Lord
, that he may have mercy on them,
and to our God, for he will abundantly pardon.
8For my thoughts are not your thoughts,
nor are your ways my ways, says the
Lord
.
9For as the heavens are higher than the earth,
so are my ways higher than your ways
and my thoughts than your thoughts.
A Reading from the Psalms
Psalm 63:1–8
1O God, you are my God; eagerly I seek you;
my soul thirsts for you, my flesh faints for you, as in a dry and weary land where there is no water.
2Therefore I have gazed upon you in your holy place,
that I might behold your power and your glory.
3For your steadfast love is better than life itself;
my lips shall give you praise.
4So will I bless you as long as I live
and lift up my hands in your name.
5My spirit is content, as with the richest of foods,
and my mouth praises you with joyful lips,
6when I remember you upon my bed,
and meditate on you in the night watches.
7For you have been my helper,
and under the shadow of your wings I will rejoice.
8My whole being clings to you;
your right hand holds me fast.
A Reading from St. Paul's First Epistle to the Corinthians
1 Corinthians 10:1–13
1I do not want you to be unaware, brothers and sisters, that our ancestors were all under the cloud, and all passed through the sea, 2and all were baptized into Moses in the cloud and in the sea, 3and all ate the same spiritual food, 4and all drank the same spiritual drink. For they drank from the spiritual rock that followed them, and the rock was Christ. 5Nevertheless, God was not pleased with most of them, and they were struck down in the wilderness.
6Now these things occurred as examples for us, so that we might not desire evil as they did. 7Do not become idolaters as some of them did; as it is written, The people sat down to eat and drink, and they rose up to play. 8We must not indulge in sexual immorality as some of them did, and twenty-three thousand fell in a single day. 9We must not put Christ to the test, as some of them did, and were destroyed by serpents. 10And do not complain as some of them did, and were destroyed by the destroyer. 11These things happened to them to serve as an example, and they were written down to instruct us, on whom the ends of the ages have come. 12So if you think you are standing, watch out that you do not fall. 13No testing has overtaken you that is not common to everyone. God is faithful, and he will not let you be tested beyond your strength, but with the testing he will also provide the way out so that you may be able to endure it.
A Reading from the Gospel of St. Luke
Luke 13:1–9
P: The holy gospel according to St. Luke, the 13th chapter.
C: Glory to you, O Lord.
1At that very time there were some present who told him about the Galileans whose blood Pilate had mingled with their sacrifices. 2[Jesus] asked them, Do you think that because these Galileans suffered in this way they were worse sinners than all other Galileans? 3No, I tell you; but unless you repent, you will all perish as they did. 4Or those eighteen who were killed when the tower of Siloam fell on them—do you think that they were worse offenders than all the others living in Jerusalem? 5No, I tell you; but unless you repent, you will all perish just as they did.
6Then he told this parable: A man had a fig tree planted in his vineyard; and he came looking for fruit on it and found none. 7So he said to the gardener, See here! For three years I have come looking for fruit on this fig tree, and still I find none. Cut it down! Why should it be wasting the soil? 8He replied, Sir, let it alone for one more year, until I dig around it and put manure on it. 9If it bears fruit next year, well and good; but if not, you can cut it down. 
P: The Gospel of the Lord.
C: Praise to you, O Christ.
Sermon
Apostles' Creed
I believe in God, the Father almighty,
creator of heaven and earth.
I believe in Jesus Christ, God's only Son, our Lord,
who was conceived by the Holy Spirit,
born of the virgin Mary,
suffered under Pontius Pilate,
was crucified, died, and was buried;
he descended to the dead.
On the third day he rose again;
he ascended into heaven,
he is seated at the right hand of the Father,
and he will come to judge the living and the dead.
I believe in the Holy Spirit,
the holy catholic church,
the communion of saints,
the forgiveness of sins,
the resurrection of the body,
and the life everlasting. Amen.
Prayers of Intercession
P: Merciful God,
C: receive our prayer.
Words of Institution
P: In the night in which he was betrayed, our Lord Jesus took bread, and gave thanks; broke it, and gave it to his disciples, saying: Take and eat; this is my body, given for you. Do this for the remembrance of me.
Again, after supper, he took the cup, gave thanks, and gave it for all to drink, saying: This cup is the new covenant in my blood, shed for you and for all people for the forgiveness of sin. Do this for the remembrance of me.
Lord's Prayer
Our Father, who art in heaven,
hallowed be thy name,
thy kingdom come,
thy will be done,
on earth as it is in heaven.
Give us this day our daily bread;
and forgive us our trespasses,
as we forgive those
who trespass against us;
and lead us not into temptation,
but deliver us from evil.
For thine is the kingdom,
and the power, and the glory,
forever and ever. Amen.
Communion
P: The body and blood of our Lord Jesus Christ strengthen you and keep you in his grace.
C: Amen.
Prayer After Communion
P: Jesus, Bread of life, we have received from your table more than we could ever ask. As you have nourished us in this meal, now strengthen us to love the world with your own life. In your name we pray.
C: Amen.
Blessing
P: You are children of God, anointed with the oil of gladness and strengthened for the journey.
Almighty God, motherly, majestic, and mighty, bless you this day and always.
C: Amen.
Dismissal
P: Go in peace. Jesus meets you on the way.
C: Thanks be to God.
Sending Hymn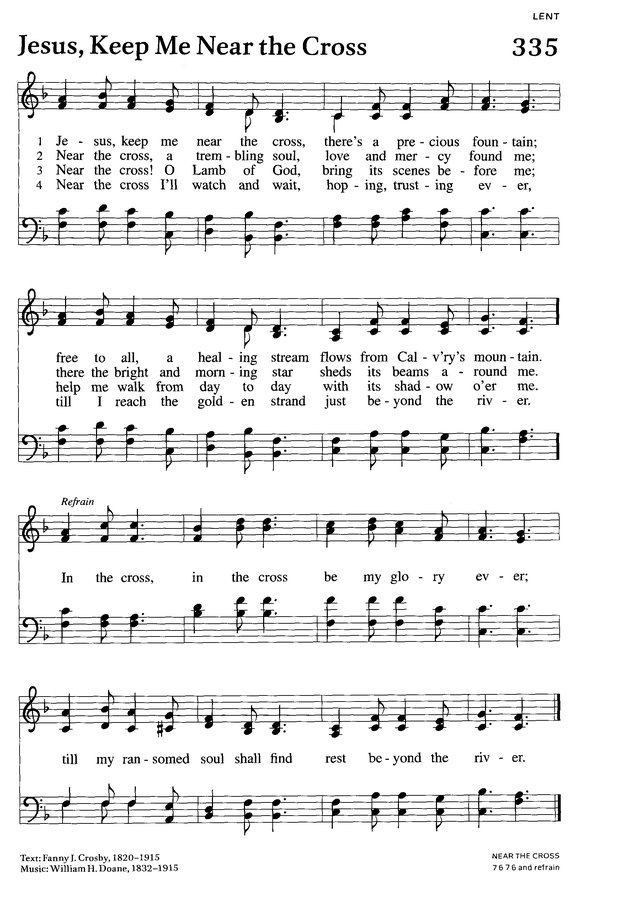 1Jesus, keep me near the cross,
there's a precious fountain;
free to all, a healing stream
flows from Calv'ry's mountain.
Refrain
In the cross, in the cross
be my glory ever;
till my ransomed soul shall find
rest beyond the river.
4Near the cross I'll watch and wait,
hoping, trusting ever,
till I reach the golden strand
just beyond the river.
Refrain
In the cross, in the cross
be my glory ever;
till my ransomed soul shall find
rest beyond the river.
---
Weekly Announcements
We remember in our prayers
The people of Ukraine and those assisting with humanitarian efforts there
Sick & Injured:

Gennie Everson, mother of Joan Everson
Ken Harness
Suzanne Kaehlert
Rosalynn Schaeffer, aunt of Wilma Miller

The following medical professionals in our congregation:

Delaney Crutcher
Adam Houghton
Kelly Johnson
Sally Jo Martin
Jolene Patton
Becky Schoon
Pam Schwartzkopf
Jenna Sutton

Carle BroMenn Outpatient Invasive Cardiology and Cardiac Catheterization Lab
U.S. military known to us
Our sister congregation, First Evangelical Lutheran Church in Beardstown, Illinois
Altar Flowers Dedication
The flowers on the altar are given by Wilma Miller in memory of her father William Miller.
Lenten Wednesdays
Wednesday Evening Lenten Services continue this week, looking at how God is with us in times of change. This week's topic is Change of Circumstances: we learn to give thanks to God in all circumstances.
Volunteers Needed
Hey, do you like mowing or yard work? We are in need of more people to mow/trim the yard at OSLC. Must be 16 years old. If so, please contact Steve Schulke. Thank you!
Easter Flowers
Would you like to purchase flowers to help decorate the sanctuary for Easter? We hope to celebrate Easter this year with lilies and other bulb flowers. Whether it be for the remembrance of someone or just for the joy of it, please enclose a notation of Easter flowers on your giving envelope and include the extra $14.00 by March 21 (tomorrow). You can also use one of the green flower cards in the pews. Your flower can be taken after Easter service or left either to stay in the church an extra week or designated for delivery to a shut-in.
Thrivent Financial Choice Dollars
Thrivent Financial reminds members to direct your 2021 Choice Dollars to Our Saviour Lutheran Church or another organization of your choice no later than March 31, 2022. You can also use their online giving platform at any time to make a donation with no processing fees. Both options are available at Thrivent.com.
Lutheran World Relief
OSLC will be collecting personal care kits for Lutheran World Relief once again during the Lent season this year. Personal care kits include the following:
bath towel,
bath size bars of soap,
adult size toothbrush,
sturdy comb,
metal nail clippers.
Home Sweet Home Ministries
Home Sweet Home Ministries has a need for supplies for bag lunches. OSLC is currently collecting water bottles and single-serve bags of chips. We will also accept monetary donations and do the shopping for you. You can leave donations in the narthex.
Altar Flowers Sign-Up
The Flower Chart is located on the bulletin board in the fellowship hall. Cost is $25 a vase. Keep in mind that there are two vases that can be sponsored each Sunday, and there are several Sundays few months with at least one opening.