April 3, 2022 – Fifth Sunday in Lent
You can follow the order of the service here.
Feel free to also check out the following:
---
Gathering and Announcements
Confession & Forgiveness
P: In the name of God, who makes a way in the wilderness, walks with us, and guides us in our pilgrimage.
C: Amen.
Silence is kept for reflection.
P: Holy One,
C: we confess that we have wandered far from you: we have not trusted your promises, we have ignored your prophets in our own day, we have squandered our inheritance of grace, we have failed to recognize you in our midst. Have mercy on us! Forgive us and turn us again to you. Teach us to follow in your ways, assure us again of your love, and help us to love our neighbor. Amen.
P: Beloved in Christ, the Word draws near to you, and all who call out to God shall be saved. In Jesus, God comes to you again and again and gathers you under wings of love. In Jesus' name, your sins are forgiven. God journeys with you and teaches you how to live in love.
C: Amen.
Entrance Hymn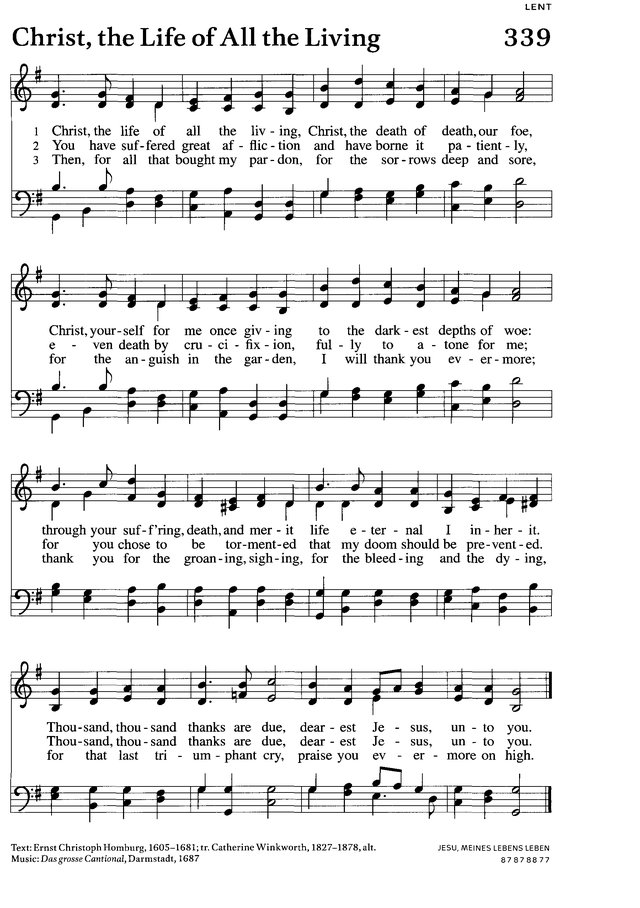 1Christ, the life of all the living,
Christ, the death of death, our foe,
Christ, yourself for me once giving
to the darkest depths of woe:
through your suff'ring, death, and merit
life eternal I inherit.
Thousand, thousand thanks are due,
dearest Jesus, unto you.
2You have suffered great affliction
and have borne it patiently,
even death by crucifixion,
fully to atone for me;
for you chose to be tormented
that my doom should be prevented.
Thousand, thousand thanks are due,
dearest Jesus, unto you.
3Then, for all that bought our pardon,
for the sorrows deep and sore,
for the anguish in the garden,
I will thank you evermore;
thank you for the groaning, sighing,
for the bleeding and the dying,
for that last triumphant cry,
praise you evermore on high.
Greeting
P: The grace of our Lord Jesus Christ, the love of God, and the communion of the Holy Spirit be with you all.
C: And also with you.
Prayer of the Day
P: Creator God, you prepare a new way in the wilderness, and your grace waters our desert. Open our hearts to be transformed by the new thing you are doing, that our lives may proclaim the extravagance of your love given to all through your Son, Jesus Christ, our Savior and Lord, who lives and reigns with you and the Holy Spirit, one God, now and forever.
C: Amen.
A Reading from the Book of Isaiah
Isaiah 43:16–21
who makes a way in the sea,
a path in the mighty waters,
17who brings out chariot and horse,
army and warrior;
they lie down, they cannot rise,
they are extinguished, quenched like a wick:
18Do not remember the former things,
or consider the things of old.
19I am about to do a new thing;
now it springs forth, do you not perceive it?
I will make a way in the wilderness
and rivers in the desert.
20The wild animals will honor me,
the jackals and the ostriches;
for I give water in the wilderness,
rivers in the desert,
to give drink to my chosen people,
21the people whom I formed for myself
so that they might declare my praise.
A Reading from the Psalms
Psalm 126
1
When the
Lord
restored the fortunes of Zion,
then were we like those who dream.
2Then was our mouth filled with laughter,
and our tongue with shouts of joy.
Then they said among the nations,
The

Lord

has done great things for them.
3
The
Lord
has done great things for us,
and we are glad indeed.
4
Restore our fortunes, O
Lord
,
like the watercourses of the Negeb.
5Those who sowed with tears
will reap with songs of joy.
6Those who go out weeping, carrying the seed,
will come again with joy, shouldering their sheaves.
A Reading from the Epistle to the Philippians
Philippians 3:4b–14
4bIf anyone else has reason to be confident in the flesh, I have more: 5circumcised on the eighth day, a member of the people of Israel, of the tribe of Benjamin, a Hebrew born of Hebrews; as to the law, a Pharisee; 6as to zeal, a persecutor of the church; as to righteousness under the law, blameless.
7Yet whatever gains I had, these I have come to regard as loss because of Christ. 8More than that, I regard everything as loss because of the surpassing value of knowing Christ Jesus my Lord. For his sake I have suffered the loss of all things, and I regard them as rubbish, in order that I may gain Christ 9and be found in him, not having a righteousness of my own that comes from the law, but one that comes through faith in Christ, the righteousness from God based on faith. 10I want to know Christ and the power of his resurrection and the sharing of his sufferings by becoming like him in his death, 11if somehow I may attain the resurrection from the dead.
12Not that I have already obtained this or have already reached the goal; but I press on to make it my own, because Christ Jesus has made me his own. 13Beloved, I do not consider that I have made it my own but this one thing I do: forgetting what lies behind and straining forward to what lies ahead, 14I press on toward the goal for the prize of the heavenly call of God in Christ Jesus.
A Reading from the Gospel of St. John
John 12:1–8
P: The holy gospel according to St. John, the 12th chapter.
C: Glory to you, O Lord.
1Six days before the Passover Jesus came to Bethany, the home of Lazarus, whom he had raised from the dead. 2There they gave a dinner for him. Martha served, and Lazarus was one of those at the table with him. 3Mary took a pound of costly perfume made of pure nard, anointed Jesus' feet, and wiped them with her hair. The house was filled with the fragrance of the perfume. 4But Judas Iscariot, one of his disciples (the one who was about to betray him), said, 5Why was this perfume not sold for three hundred denarii and the money given to the poor? 6(He said this not because he cared about the poor, but because he was a thief; he kept the common purse and used to steal what was put into it.) 7Jesus said, Leave her alone. She bought it so that she might keep it for the day of my burial. 8You always have the poor with you, but you do not always have me.
P: The Gospel of the Lord.
C: Praise to you, O Christ.
Sermon
Apostles' Creed
I believe in God, the Father almighty,
creator of heaven and earth.
I believe in Jesus Christ, God's only Son, our Lord,
who was conceived by the Holy Spirit,
born of the virgin Mary,
suffered under Pontius Pilate,
was crucified, died, and was buried;
he descended to the dead.
On the third day he rose again;
he ascended into heaven,
he is seated at the right hand of the Father,
and he will come to judge the living and the dead.
I believe in the Holy Spirit,
the holy catholic church,
the communion of saints,
the forgiveness of sins,
the resurrection of the body,
and the life everlasting. Amen.
Prayers of Intercession
P: Merciful God,
C: receive our prayer.
Words of Institution
P: In the night in which he was betrayed, our Lord Jesus took bread, and gave thanks; broke it, and gave it to his disciples, saying: Take and eat; this is my body, given for you. Do this for the remembrance of me.
Again, after supper, he took the cup, gave thanks, and gave it for all to drink, saying: This cup is the new covenant in my blood, shed for you and for all people for the forgiveness of sin. Do this for the remembrance of me.
Lord's Prayer
Our Father, who art in heaven,
hallowed be thy name,
thy kingdom come,
thy will be done,
on earth as it is in heaven.
Give us this day our daily bread;
and forgive us our trespasses,
as we forgive those
who trespass against us;
and lead us not into temptation,
but deliver us from evil.
For thine is the kingdom,
and the power, and the glory,
forever and ever. Amen.
Communion
P: The body and blood of our Lord Jesus Christ strengthen you and keep you in his grace.
C: Amen.
Prayer After Communion
P: Jesus, Bread of life, we have received from your table more than we could ever ask. As you have nourished us in this meal, now strengthen us to love the world with your own life. In your name we pray.
C: Amen.
Blessing
P: You are children of God, anointed with the oil of gladness and strengthened for the journey.
Almighty God, motherly, majestic, and mighty, bless you this day and always.
C: Amen.
Dismissal
P: Go in peace. Jesus meets you on the way.
C: Thanks be to God.
Sending Hymn
1When I survey the wondrous cross
on which the prince of glory died,
my richest gain I count but loss
and pour contempt on all my pride.
2Forbid it, Lord, that I should boast
save in the death of Christ, my God;
all the vain things that charm me most,
I sacrifice them to his blood.
3See, from his head, his hands, his feet,
sorrow and love flow mingled down.
Did e'er such love and sorrow meet,
or thorns compose so rich a crown?
4Were the whole realm of nature mine,
that were a present far too small;
love so amazing, so divine,
demands my soul, my life, my all.
---
Weekly Announcements
We remember in our prayers
The people of Ukraine and those assisting with humanitarian efforts there
Sick & Injured:

Ken Harness
Suzanne Kaehlert
Rosalynn Schaeffer, aunt of Wilma Miller

The following medical professionals in our congregation:

Delaney Crutcher
Adam Houghton
Kelly Johnson
Sally Jo Martin
Jolene Patton
Becky Schoon
Pam Schwartzkopf
Jenna Sutton

Carle BroMenn Outpatient Invasive Cardiology and Cardiac Catheterization Lab
U.S. military known to us
Our sister congregation, First Evangelical Lutheran Church in Beardstown, Illinois
Altar Flowers Dedication
The flowers on the altar are given by Linda Prosser in honor of her granddaughter Lauren Hall's birthday.
Lenten Wednesdays
Wednesday Evening Lenten Services conclude this week, looking at how God is with us in times of change. This week's topic is Change of Plans: God changes our plans, replacing them with more than what we could imagine.
Updates from Council on The Way
Did you receive (by email or paper copy) the latest issue of our newsletter The Way? As we continue in the process of leadership, the Council is sharing updates on the call process there, so make sure you are getting yours. Call the office if you have not been receiving The Way.
Volunteering at Midwest Food Bank
The Sending Ministry Team will be volunteering at Midwest Food Bank on Monday, April 11 from 6:00–8:00 p.m. We need a group of 15 20 volunteers. Children 10 years and older are able to help as long as they are accompanied by their parent. Everyone also needs to have close-toed shoes. Midwest Food Bank requires all volunteers to sign up ahead of time using this link: https://x.gldn.io/DPrqzYnhLeb. If you have questions you can contact Rob or Shawna Mahnke. Thank you!
Lutheran World Relief
OSLC will be collecting personal care kits for Lutheran World Relief once again during the Lent season this year. Personal care kits include the following:
bath towel,
bath size bars of soap,
adult size toothbrush,
sturdy comb,
metal nail clippers.
Home Sweet Home Ministries
Home Sweet Home Ministries has a need for supplies for bag lunches. OSLC is currently collecting water bottles and single-serve bags of chips. We will also accept monetary donations and do the shopping for you. You can leave donations in the narthex.